Forbes Field
Pittsburgh, PA ~ August 15, 2008



"FORBES FIELD: The first all steel and concrete ballpark in the nation. Forbes Field was home to the Pittsburgh Pirates, site of four World Series in 1909, 1925, 1927 & 1960 and two All-Star games. Hosted the Homestead Grays, Steelers and Pitt Panthers, as well as political rallies and boxing matches. Site of Bill Mazeroski's game seven, ninth inning, World Series winning home run on October 13, 1960 and Babe Ruth's last 3 home runs. Damaged by fire, razed 1972."

A few remnants of Forbes Field survive in the Oakland section of Pittsburgh. Home plate is encased in glass in the floor of a building that belongs to the University of Pittsburgh; a section of the outfield wall stands across the street on city-owned property.

LINKS:
Ballparks.com
Ballparks of Baseball.com
Ballpark Tour.com


"THIS LINE OF BRICK MARKS
THE OUTFIELD WALL OF
OLD FORBES FIELD WHICH
SERVED AS THE HOME OF
THE PITTSBURGH PIRATES
FROM JUNE 30, 1909, UNTIL
JUNE 28, 1970, WHEN THE
NEW THREE RIVERS STADIUM OPENED"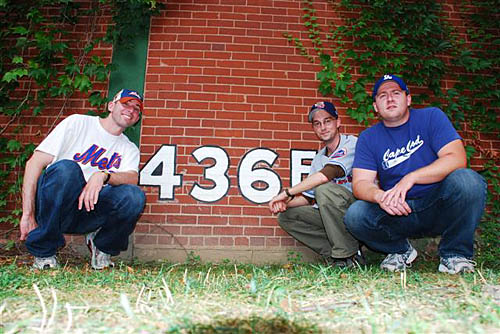 Marc, Rob and Paul



Exposition Park
Pittsburgh, PA ~ August 15, 2008
"FIRST WORLD SERIES
In October 1903, National League champion Pittsburgh Pirates played American League champion Boston in major league baseball's first modern World Series. Boston won the best-of-9 series, 5 games to 3: prominent players included Pittsburgh's Honus Wagner and Boston's Cy Young. Games 4 through 7 were played near this site at Exposition Park, Pittsburgh's home from 1891 to 1909."

The site of Exposition Park is now a parking lot between the Pirates' PNC Park (seen in the background of the above photograph) and the Steelers' Heinz Field. I have read that Three Rivers Stadium was also located on the site of Exposition Park. Home plate and the bases have been spray painted onto the surface of the parking lot - I am not entirely sure which stadium these bases are supposed to represent, but am inclined to believe they were painted for Exposition Park.
LINKS:
Ballparks of Baseball.com
Ballparks.com

---
This page copyright © 2008 by Robert J. Yasinsac.
Reproduction of text and/or photographs without the permission of Robert J. Yasinsac is prohibited.